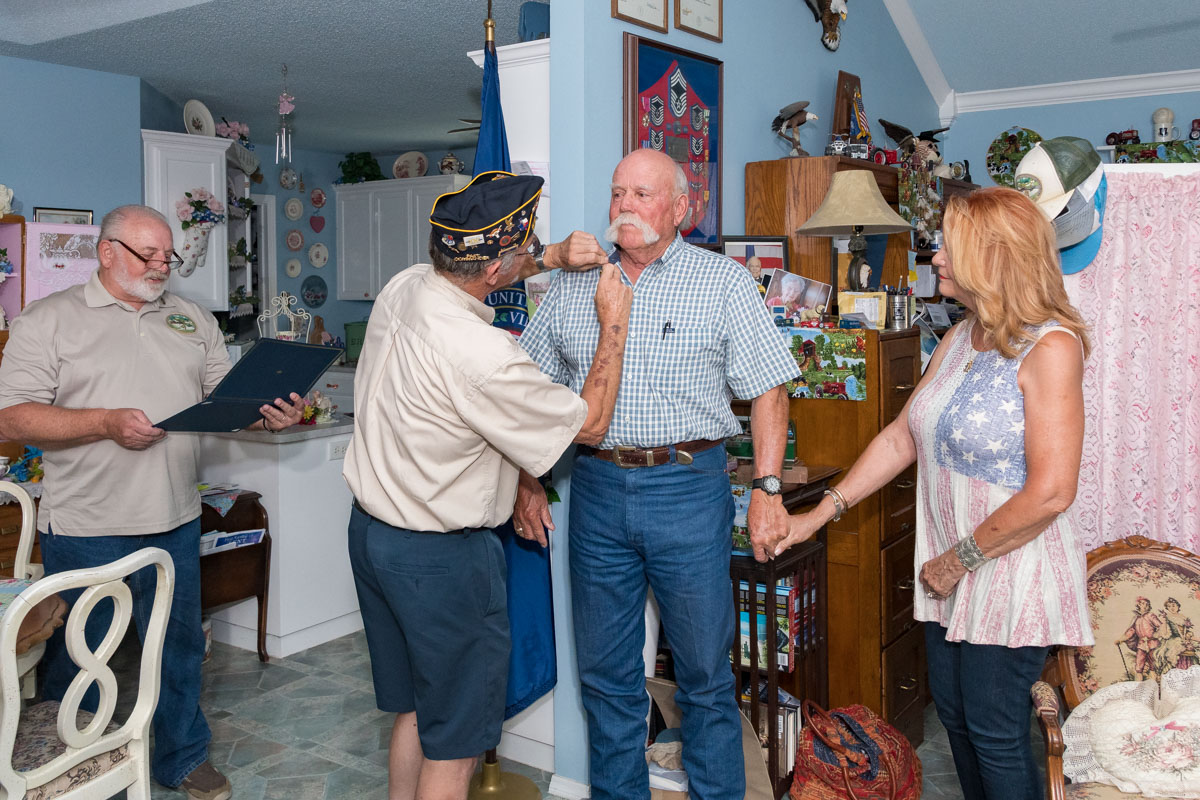 June 9, 2021: The EC-47 History Site Commemorative Partner Program (CPP) committee in San
Angelo, Texas, hosted a Vietnam veteran lapel pin and Certificate of Appreciation presentation to
Bryan Booth in the home of the committee coordinator on Wednesday, June 9, 2021.
Committee member, Carl Frentz, representing American Legion Post 572, made the presentations. Booth was accompanied by his spouse, Connie Booth.
In this photo, L-R: Tom Nurre, Carl Frentz, Bryan & Connie Booth.
Bryan Booth graduated from Texas A&M University in the Class of 1968. Although not a member of the Corps of Cadets, he did have some military service and commissioning opportunities (especially in Army helicopter aviation career fields) being provided by the raging Vietnam War. Bryan enlisted in the Air Force in 1969 and completed his basic training and medical technician training at Lackland (San Antonio) and Sheppard (Wichita Falls) Air Force Bases, respectively. Following graduation, he was assigned to the 3rd USAF Dispensary at Bien Hua Air Base, South Vietnam. Bryan also pulled duty with a US Army unit operating in and around Long Binh. He got his opportunities to ride in those choppers after all.
Then-Staff Sergeant Booth completed his enlistment in 1973 and returned to Texas, eventually turning to the ranching life on the family holdings near Junction in Kimble County. It was our honor to host this "Welcome Home" ceremony and to offer him the tribute and thanks that should have been part of his return from Southeast Asia fifty years ago.
Enjoy viewing and downloading these photos...but remember - The photographer and website manager grant permission to download and use these images for personal use only. Users may not edit or change digital files with filters or any software without written permission from the photographer and website manager. This permission applies worldwide. The photographer retains the copyright to all images. Please credit Faith in a Flash Photography and The EC-47 History Site CPP when downloading or referencing these images for your personal use.