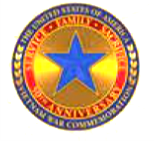 The Commemoration has established a series of Certificate of Honor lapel pins to recognize the unique service and sacrifice of four categories of veterans and family members. This is a special lapel pin presented to a surviving spouse, at the time of death, of a Vietnam War veteran who served on active duty in the U.S. Armed Forces at any time during the period 1 November 1955-15 May 1975 regardless of the location of service. Review the deceased Vietnam veteran surviving spouse Fact Sheet to confirm your eligibility.
The next EC-47 History Site Commemorative Partner Program (CPP) Committee-sponsored lapel pin presentation ceremony is being planned as part of the 3rd Annual Vietnam Veterans Day Commemoration Ceremony scheduled for Friday, March 29, 2024, at 1100 am on Goodfellow Air Force Base at the Weyandt-Eddy Memorial Plaza adjacent to the Norma Brown building 430, 351 Kearney Blvd.
Please fill in and submit the online form below to register for the presentation of the deceased Vietnam veteran surviving spouse (DVVSS) lapel pin and Certificate of Honor at one of the two scheduled events.
Thank you for your interest and participation in the 50th Anniversary Vietnam War Commemoration program. WELCOME HOME!