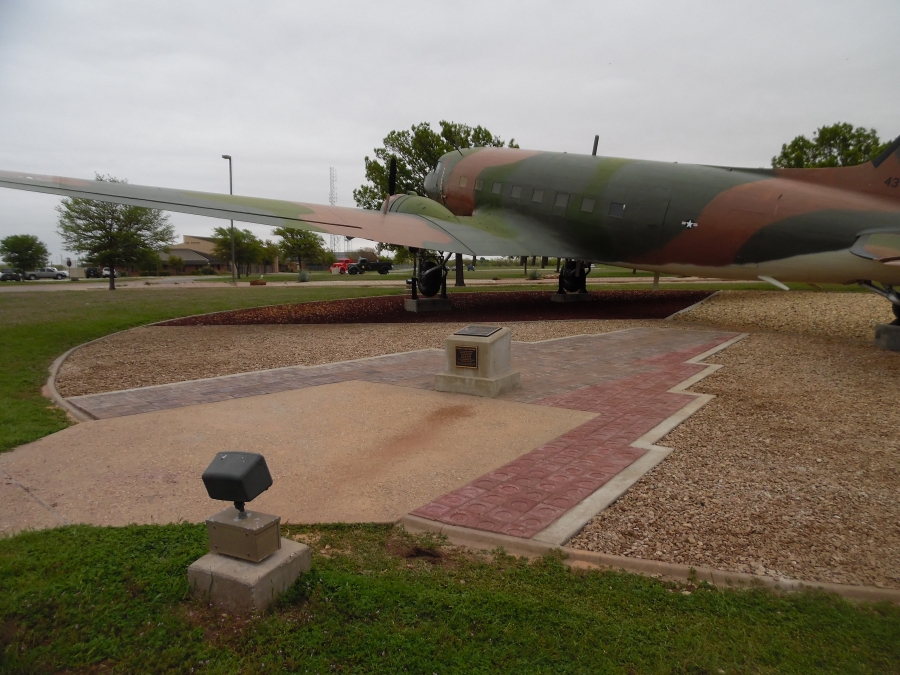 The San Angelo Heritage Chapter of the Freedom Through Vigilance Association (FTVA) and EC-47 History Site, supported by a grant from the San Antonio-based FTVA board of directors, sponsored the creation of the EC-47 Memorial Plaza as shown in the USAF photograph above. Goodfellow AFB officials accepted the Heritage Chapter design and gift of nearly 1,000 pavers on June 24, 2019.
Initial plans were to dedicate the EC-47 Memorial Plaza with an estimated 250 engraved bronze plates during a national Vietnam War Veterans Day ceremony scheduled at the aircraft display on March 27, 2020. However, the worldwide COVID-19 pandemic with its extensive travel bans and community "lockdown" restrictions caused both the construction of the plaza and the dedication ceremony to be postponed indefinitely. Dedicated Goodfellow AFB Civil Engineers and San Angelo contractors did complete the plaza construction and placement of the pavers during early April 2020.

As of October 1, 2021, planning has begun to support a Goodfellow AFB effort to install the finished bronze plates in time for a grand opening/dedication ceremony possibly in March 2022. Click HERE for more details about the Memorial Paver ordering process.
The following pages contain photographs of finished engraved bronze plates taken in a studio setting. Each bronze plate is numbered to correspond with its final placement location in the plaza design. There are separate galleries and numbering sequences for the 4x8 and 8x8 paver bronzes. Click on the individual paver icons below to link to the respective gallery.
Gallery 4x8 Paver w/inscriptions
Gallery 8x8 Paver w/inscriptions
The EC-47 Memorial Plaza was constructed starting on March 30, 2020. Photos below were taken by JJ Graham, president of the Heritage Chapter-Freedom Through Vigilance Association. The paver installation is complete except for the placement of the black silhouette boot prints and the overall paver sealer coating. Individual engraved bronze plates will be affixed in the paver indentions with commercial adhesive in preparation for annual dedication ceremonies.