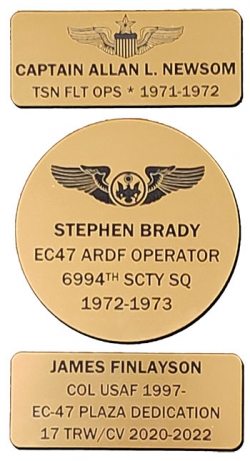 Keepsake Paver Plates are manufactured using inexpensive ABS plastic with a black base and metallic top finish. These plates were originally developed as "fill-ins" for those engraved bronze plates in backlog order status due to the Leave Your Mark company's devastating loss of production caused by the California wildfires in late 2019. More than 175 fill-in plates were placed temporarily in the plaza during the dedication ceremony of the Weyandt-Eddy Memorial Plaza on March 25, 2022. These temporary plates were then made available as keepsakes following the ceremony. They were very much appreciated...and we identified a market for producing these plates as an important value-added part of our paver program.
These production plates, both the round and rectangle shapes, are just $15.00 each. This includes shipping.
Since the Keepsake Paver Plate is a replica of your original bronze plate, it is engraved by the Angelo Awards company in San Angelo, Texas using your original order with the paver size, location number, and inscription information.
You may order as many as 10 Keepsake Paver Plates in each order. Again, the 8x8 round and the 4x8 rectangle keepsake plates are $15 each...including free shipping.
Please contact the paver coordinator at: [email protected] or 325 450-4476 for more information.