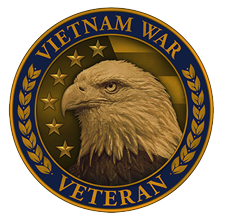 "A Lasting Memento of the Nation's Thanks!"
The Commemoration provides a Vietnam Veteran Lapel Pin for dignified public presentations to living U.S. military veterans who served on active duty in the U.S. Armed Forces at any time during the period of November 1, 1955, to May 15, 1975, regardless of location. Eligible veterans may receive one Commemorative lapel pin. Review the Vietnam Veteran Lapel Pin Fact Sheet for more information.
The next EC-47 History Site Commemorative Partner Program (CPP) Committee-sponsored lapel pin presentation ceremony is scheduled for 11:00 AM, Friday, March 29, 2024, at the Weyandt-Eddy Memorial Plaza located on Goodfellow Air Force Base. Please submit this form to register for the presentation of the Vietnam Veteran lapel pin and Certificate of Appreciation at this event.
Please note: If you have already been presented with a Vietnam War Commemorative lapel pin, you are still invited and welcome to attend this event. Contact the CPP coordinator at 325 450-4476 or email [email protected].
*San Angelo, Texas, and vicinity Vietnam veterans who are unable to travel or otherwise attend a public ceremony may also use this form to register for the EC-47 History Site Commemorative Partner Program committee outreach program. Community Senior Living facilities are also encouraged to assist eligible Vietnam veteran residents to register through this online program. Please submit each registration with additional remarks about personal travel limitations in the form Comments section. We will contact you about our outreach personal presentation opportunities.
*If you are unable to attend a local event when scheduled, you may also request a commemorative lapel pin through the national mailout program. Click on this link for more information: https://www.vietnamwar50th.com/about/vietnam_veteran_lapel_pin/