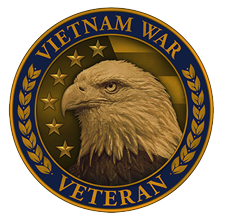 "A Lasting Memento of the Nation's Thanks!"
The Commemoration provides a Vietnam Veteran Lapel Pin for dignified public presentations to living U.S. military veterans who served on active duty in the U.S. Armed Forces at any time during the period from November 1, 1955, to May 15, 1975, regardless of location. Eligible veterans may receive one Commemorative lapel pin. Review the Vietnam Veteran Lapel Pin Fact Sheet to confirm your eligibility.
The next EC-47 History Site Commemorative Partner Program (CPP) Committee-sponsored lapel pin presentation ceremony is being planned as part of the 16th Air Force & Freedom Through Vigilance Association (FTVA) annual reunion in San Antonio, Texas, 19-21 October 2023. Vietnam War Veteran Commemorative lapel pins will be presented during the Remembrance ceremony at the EC-47 aircraft display, and during the annual banquet. Check out the full schedule of events on the ftva.us website and the September 2023 Remain In Touch Newsletter.
Please fill in and submit the online form below to register for the presentation of the Veteran lapel pin and Certificate of Appreciation at one of the two scheduled events.
You may also download and print a paper copy form to fill in by hand.
CLICK HERE TO DOWNLOAD THE PRINTABLE VETERAN LAPEL PIN REGISTRATION FORM
Please complete your printed form legibly and follow the instructions for sending it to us via an email attachment or snail mail (USPS).

Thank you for your interest and participation in the 50th Anniversary Vietnam War Commemoration program. WELCOME HOME!