NOTICE ALL SALES ARE SUSPENDED INDEFINITELY NOTICE
The Leave Your Mark (LYM) company in Phoenix, Oregon, supplies the paver engraved bronze plates for this memorial. Their complex was burned to the ground on September 8, 2020, by the California wildfires that raced up I-5 into Oregon and Washington. Everyone in the company escaped the fire, but their engraving equipment was completely destroyed.
June 4, 2021: The LYM company advised us that their reconstruction and return to normal paver supply and engraving services are taking more time and money than expected due to the exhaustive fire claims process and skyrocketing costs of building supplies. The earliest possible date for providing the bronze plates and engraving service is February 2022. LYM expects the price of goods will be increased substantially.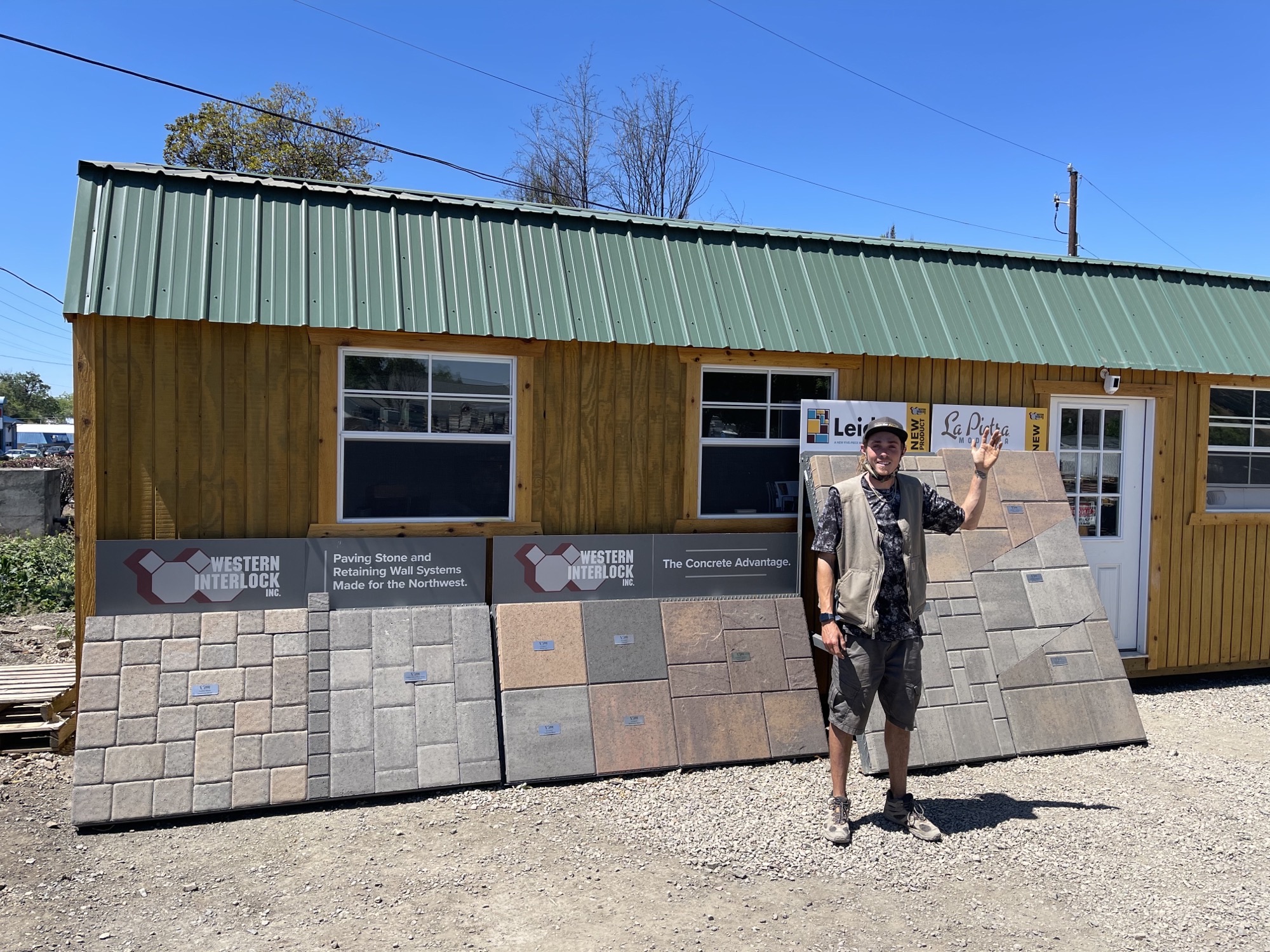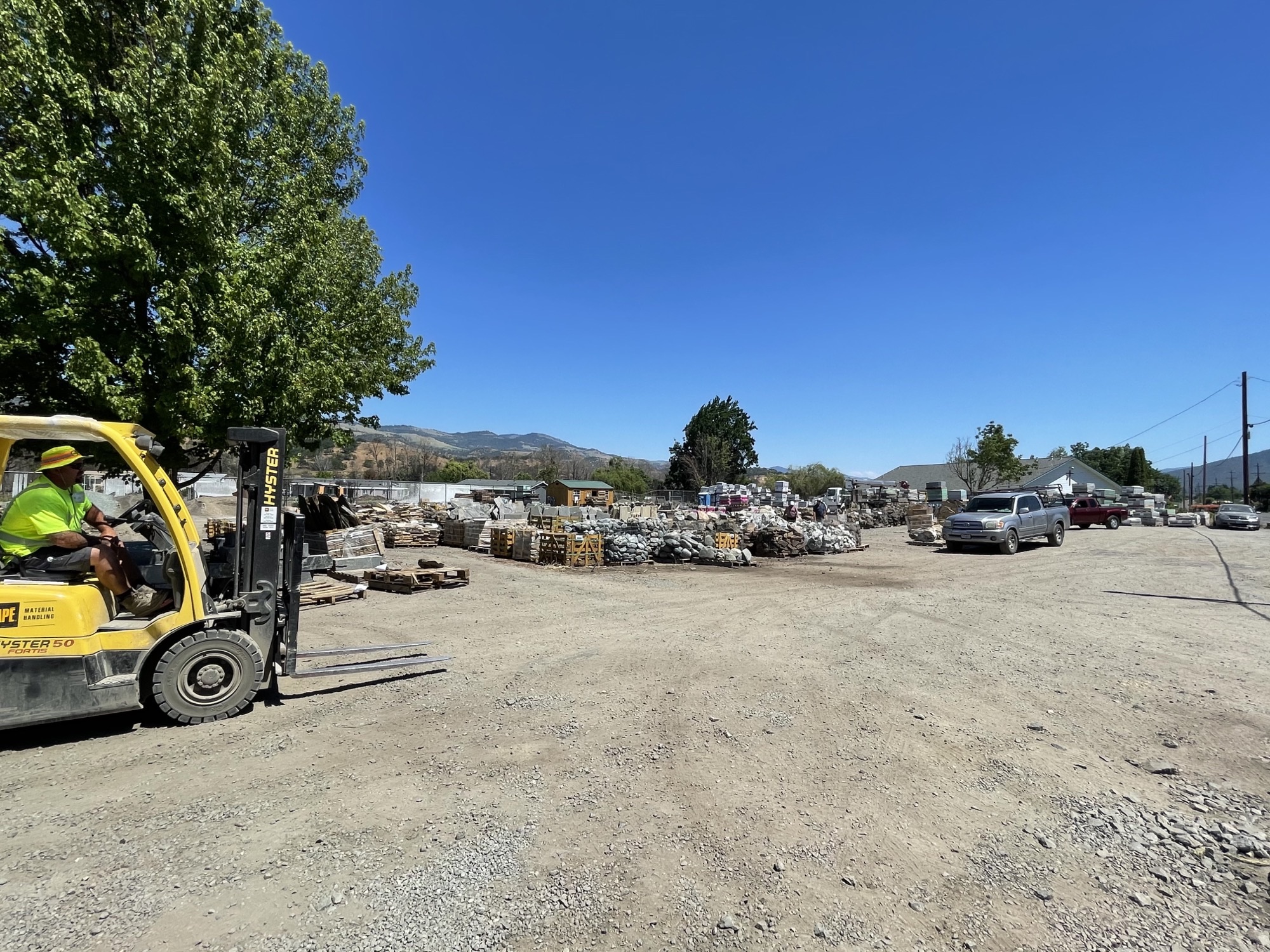 Photos provided by LYM General Manager, Henry Cislo. Left: Henry stands in front of their temporary office building located at 4631 Pacific Hwy, Phoenix, OR 97535. Henry is personally invested in the success of the EC-47 Memorial Plaza project and is breaking his back on our behalf working to get back into production. Right: The LYM landscaping business is back in operation while they still struggle to reconnect electricity and water utilities. More photos will be added as progress is reported.
Effective today, all reservations for paver locations and sales of engraved bronze plates are suspended. All orders received but not yet engraved will be honored as submitted. These orders will be placed first when LYM resumes production next year. All new orders may see a price increase depending upon the LYM company's actions.
Thank you for your continued interest...and patience. For more information or to ask specific questions, please contact Tom @ 325 450-4476 or by email at: [email protected]

EC-47 MEMORIAL PLAZA
TRIBUTE TO ALL VETERANS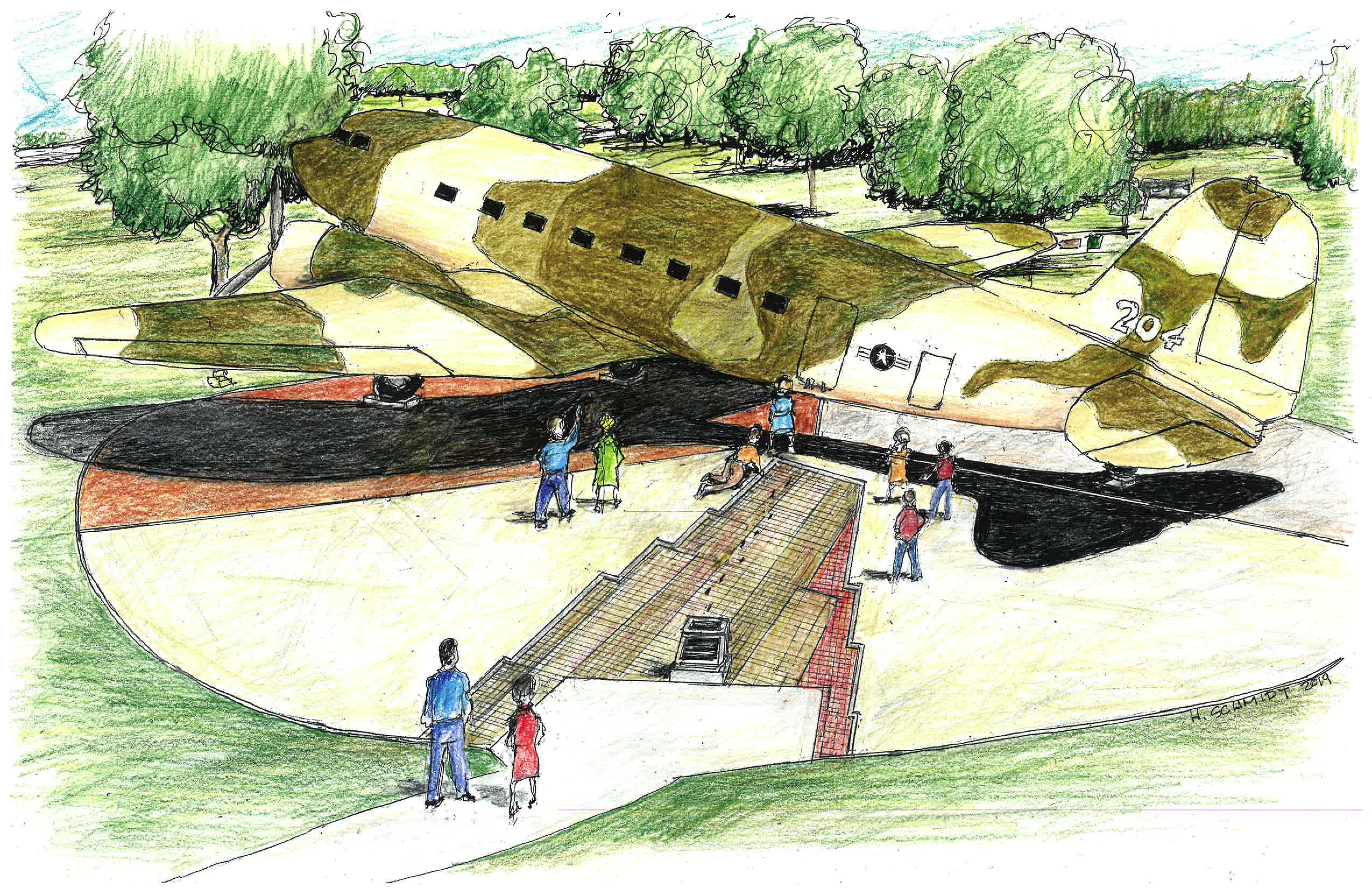 A Vietnam War replica EC-47 Electric Goon aircraft, installed in front of the Goodfellow AFB wing headquarters in October 2005, stands in tribute to the intelligence, surveillance and reconnaissance mission that has been the training focus on the base since 1958.
Supported by a grant from the San Antonio, Texas, Freedom Through Vigilance Association (FTVA) board of directors, the FTVA San Angelo Heritage Chapter, and the EC-47 History Site gifted the materials for this memorial plaza project to Goodfellow AFB in February 2019. The installation of nearly 1,000 pavers was completed in early April 2020. Click HERE or the above architect's rendering to view photos of the installation progress.
It is envisioned that this memorial plaza will be a place where living and deceased veterans from all branches of the military can be honored and remembered. It will be available as a setting for special ceremonies, as well as a sanctuary for quiet reflection.
Memorials may be as simple as listing the veteran's name, branch, and dates of service on the 4x8-inch paver rectangular bronze plates - to adding a service emblem and service-related details on the larger 8x8-inch paver circular bronze plates. The pavers are already installed, the engraved bronze plates will be installed during the annual Vietnam War Veterans Day dedication ceremonies at the EC-47 Memorial Plaza. Click these links to view photographs of completed engravings: 4x8 Pavers 8x8 Pavers.
There are two methods for purchasing these pavers. The online ordering process offers a choice of available paver locations and a PayPal/credit card payment option. Or, you can download a printable order form and pay by personal check or money order through the mail.
PRINT FORM - PAY BY CHECK
Click on the Order Form icon below for a combined information sheet and 4x8/8x8 paver and engraved inscription order form.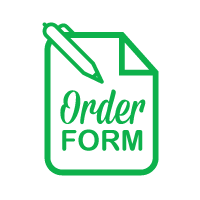 ONLINE ORDER FORMS AND INSCRIPTIONS
Click on these icons to take a sneak peek at the 4x8 and 8x8 paver bronze plate inscription order forms. These are preview copies only...you must return to this page to start the online purchase process below.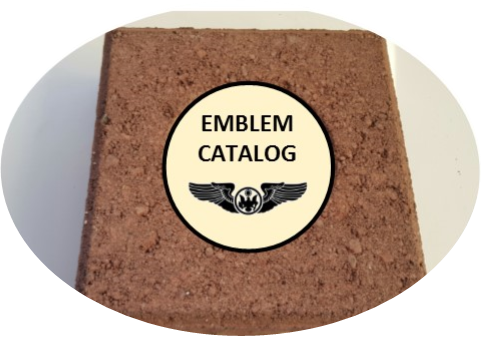 If you intend to order an emblem, logo or military graphic on an 8x8 paver plate only, it may be a good idea to review the already approved images in the online emblem catalog. There is a block on the 8x8 engraver form to enter the catalog name/number of your choice. If you do not find one you like in this catalog, send your own file to the paver coordinator for review and pre-approval by clicking on the Upload Your Own incon below.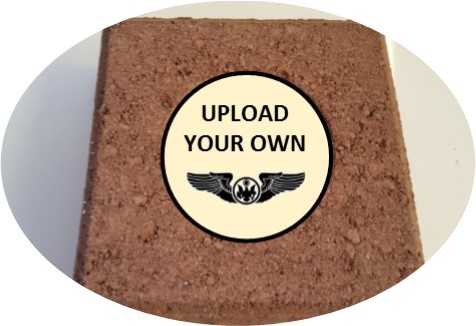 ONLINE ORDER
The online order process is a three-step sequence. If you have any difficulties completing the online order process, please contact the website manager:
Telephone: 325 949-7188 or email: [email protected]
Step 1 features an up-to-date layout that displays the location and number for each paver. Follow the prompts to select and reserve a single or multiple numbers of available pavers. Complete the contact information portion and click the Reservation Confirmation box on the bottom of the form. An email reservation confirmation message will be sent to the email address you entered on the form. Write down your reserved paver number or check the reservation email confirmation message for your paver location number. You will be asked to enter this number when filling in the engraver inscription form in Step 3.

Step 2 - The PayPal feature opens automatically once the reservation in Step 1 is completed. You may use a PayPal or credit card account to make your payment. Once your payment is processed, PayPal sends a payment received email message to the same address as Step 1. The engraver inscription form opens automatically.

Step 3 - The final step is to enter the inscription information (text or text + emblem) for your engraved bronze plate. You may add an emblem at no extra charge. The emblem takes up 3 consecutive lines of text in the top, center or bottom sections.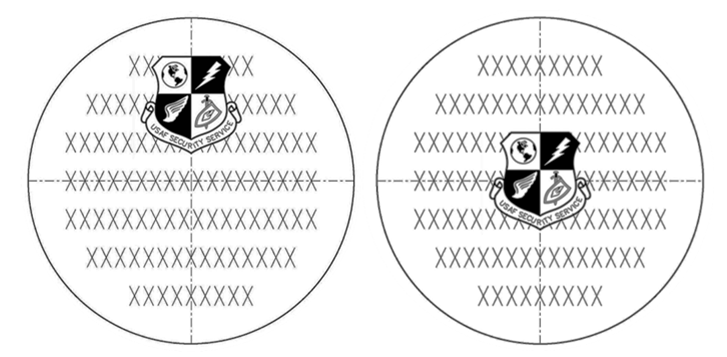 Follow the directions on the form for submitting an additional inscription form for each paver purchased. You will receive an email Receipt message when each form is successfully submitted.
Ready, Set, Go!
Click the desired paver purchase option below.


PURCHASE 4 x 8 PAVER ($50)
PURCHASE 8 x 8 PAVER ($100)
Photo gallery of the EC-47 Memorial Plaza & paver/bronze plate examples below.