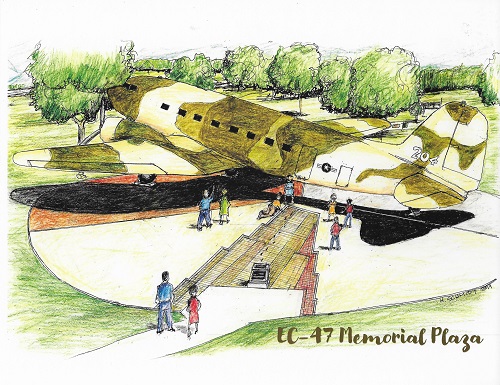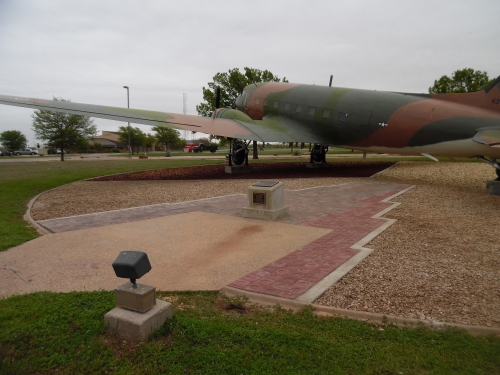 A Vietnam War replica EC-47 Electric Goon aircraft was installed in front of the Goodfellow AFB wing headquarters in October 2005. It stands in tribute to the intelligence, surveillance, and reconnaissance mission that has been the training focus on the base since 1958. In the early 1960s, EC-47 airborne radio direction finding (ARDF) operator and maintenance training courses were administered here. Cousin Tom Nurre was trained here prior to his tour of duty in Southeast Asia from 1970-1971.
A lifetime member of the Freedom Through Vigilance Association (FTVA) and active with the San Angelo Heritage Chapter of the FTVA, Tom was a key player in coordinating the acquisition, refurbishment, and installation of this static display that replicates the aircraft that flew the final U.S. Air Force ARDF mission of the Vietnam War in May 1974. He also directed the design and funding of the ARDF History Exhibit constructed inside the headquarters building in 2014. The major funding for the inside exhibit was donated by the Eugene F. Nurre family's sons and daughters.
Supported by a grant from the San Antonio, Texas, Freedom Through Vigilance Association (FTVA) board of directors, the San Angelo Heritage Chapter, and the EC-47 History Site gifted the materials for this EC-47 Memorial Plaza project to Goodfellow AFB in February 2019. The installation of nearly 1,000 pavers was completed in early April 2020. Click HERE to view photos of the installation progress.
It is envisioned that this memorial plaza will be a place where living and deceased veterans from all branches of the military can be honored and remembered. It will be available as a setting for special ceremonies, as well as a sanctuary for quiet reflection.
Memorials may be as simple as listing the veteran's name, branch, and dates of service on the 4x8-inch paver rectangular bronze plates - to adding a service emblem and service-related details on the larger 8x8-inch paver circular bronze plates. The engraved bronze plates were installed just prior to the plaza dedication ceremony held on March 25, 2022. Here is a photograph of the Nurre Family representatives who were able to attend the dedication.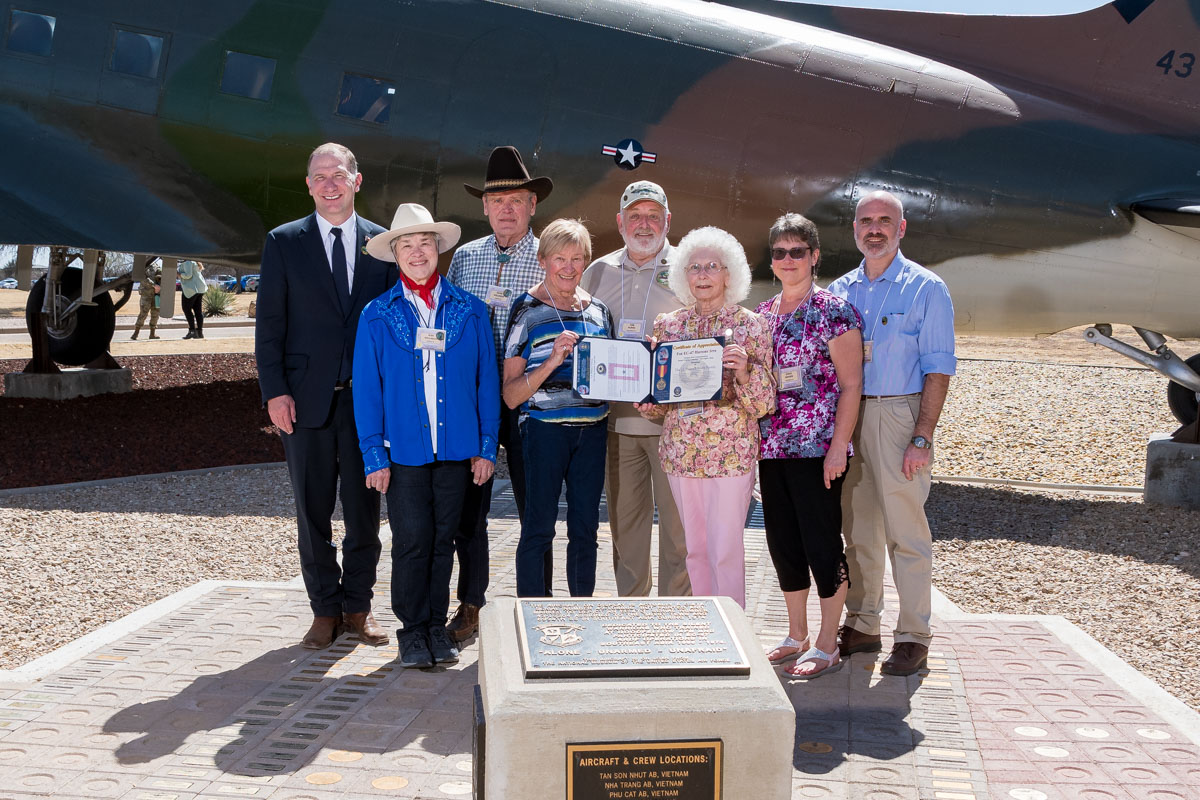 Photo L-R: Texas State Senator Charles Schwertner; Jean & Dave Kollasch; Kathy Velas;
Tom & Kitty Nurre, Mary Elizabeth (Betsy) Snyder, and Tom Nurre, Jr. (CLICK PHOTO FOR ALL DEDICATION PHOTOS)
Please scroll down to review the Nurre Military Family heritage as introduced by cousin Pete Kollasch and as reported in newspaper articles, online resources, and nearly overwhelming interest, input, and support from the extended JJ & Anna Nurre family. Pictures of completed (imitation) engraved plates that record individual service records are included in the gallery at the bottom of this page. A fitting tribute to the Nurre Military Family.