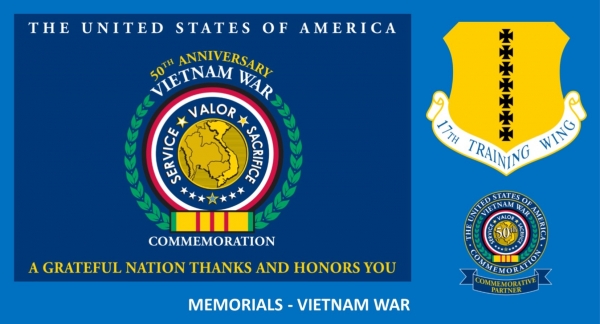 The 2008 National Defense Authorization Act authorized the Secretary of Defense to conduct a program to commemorate the 50th anniversary of the Vietnam War. "The Commemorative Partner Program is designed for federal, state and local communities, veterans' organizations and other nongovernmental organizations to assist a grateful nation in thanking and honoring our Vietnam Veterans and their families." (vietnamwar50th.com)
Goodfellow AFB is a registered commemorative partner. The base leadership has hosted and participated in on-base and community events to honor and thank Vietnam War veterans and their families for their service, valor and sacrifice. Goodfellow is also an active member of the EC-47 History Site Commemorative Partner Program committee. (vietnam50thcpp.com)
Twelve Goodfellow buildings are named in honor of Vietnam War veterans killed in action during the war. Two buildings are named for surviving veterans awarded the Medal of Honor during the Vietnam War. The additional named buildings honor Vietnam War veterans as defined by the 50th Vietnam War Commemoration eligibility criteria. Starting with the naming of Jones Hall, Melton Hall and Ryon Hall on 1 December 1976 to the ARDF History Exhibit dedicated on 25 July 2014, the EC-47 aircraft (Gooney Bird) display is possibly the most prominent physical reminder of that war. During its dedication on 28 October 2005, retired Lt. Gen. James R. Clapper, Jr., made specific comments about "this tough, old plane" in reference to the venerable C-47 aircraft and the intelligence training mission of Goodfellow AFB.
"This aircraft here at Goodfellow will serve as a monument to the men
who served on this tough, old plane in Southeast Asia. It is a symbol that
will remind America and future generations of the ingenuity, dedication
and courage of the men and women of Air Force intelligence."
Lt. Gen. James R. Clapper, Jr., former Detachment 3,
6994th Security Squadron commander and airborne
communications analyst. 28 October 2005.
There are nine buildings named in honor of C-47 "Gooney Bird" aircrew members. Six (Brandenburg, Cressman, Leftwich, Melton, Ryon and Sebers) in the EC-47 airborne radio direction finding version; two in the RC-47 command & control/intelligence collection version (Chiarello & Di Tommaso); and Harris in the AC-47 "Spooky" gunship.
Clappers dedication comments are clearly appropriate for those C-47 aircrew members, the other aviators (Jones/F-4C, Tijerina/CH-53C, Jefferson/O-1G, Day/F-100, Thorsness/F-105) and all Vietnam War veterans included in this 50th Vietnam War Commemorative Partner Program tribute to the Goodfellow AFB memorialization program.
"This aircraft will never take to the skies again, but it still has a critical mission;
celebrate the heroism of crews who flew it, honor the memory of the men who were lost
in action on it and to stand as a link of the past to the future as a reminder of what we did,
and an example of what our shared sense of purposes empowers us to achieve."
Lt. Gen. Clapper

The veteran thumbnail graphics below are arranged in multi-crew and aircraft order. There is no implied order of importance in this alignment...all are honored equally with greatest respect.
Click on each graphic to read more about each of these Vietnam War veterans. Thank you for joining us in paying tribute and remembering them during this special 50th Vietnam War Commemoration...and every day hereafter.
Use your browser return arrow to come back to this page to select another memorial.