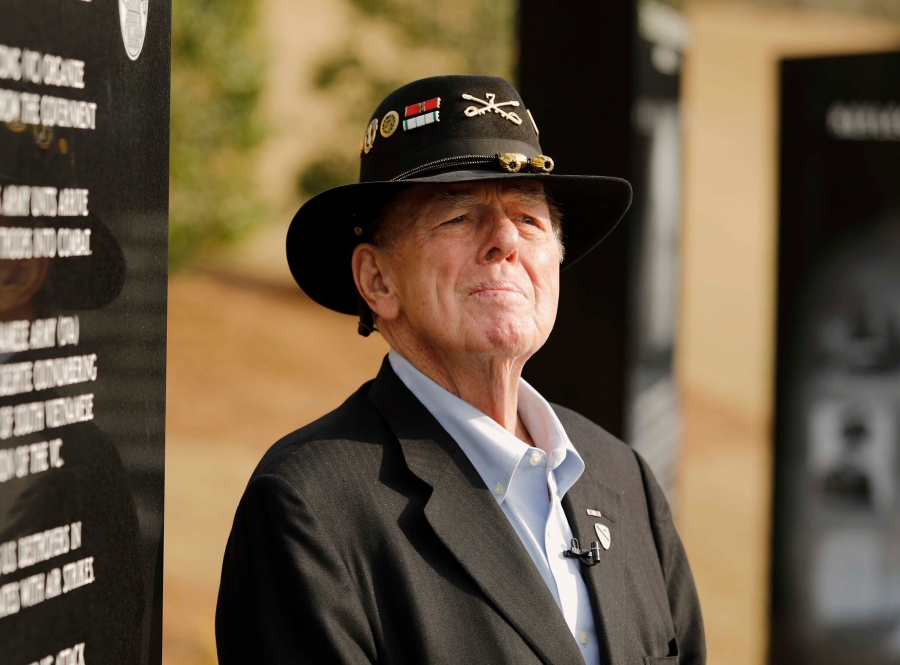 Joe Galloway
November 13, 1941 – August 18, 2021
VVA Web Weekly
August 20, 2021
It is great sadness that we learned this week of the passing of Joe Galloway.

Well before VVA's inception in January 1978—when a small group of Vietnam veteran activists came to Washington, D.C., to address the lack of recognition and appreciation for our service— Joe Galloway was our champion, using his exceptional journalistic skills to record the unabashed truths of our service and homecoming, persisting, in the face of a divided nation and a weary public all too ready to forget about our unpopular war and those of us who had served in Vietnam.

Probably no war correspondent, other than Ernie Pyle, has devoted his entire life to telling the life story of the ordinary soldier. He was in the trenches with us in Vietnam, and he has been with us ever since. With compassion, wit, and determination, he has devoted his life and immense literary and journalistic talents to telling our story, the story of us at war and the story of our return.
Read the full VVA tribute to Joe Galloway HERE.
The Vietnam War Commemoration produced several outreach videos featuring Joe Galloway. The EC-47 History Site CPP committee organizations proudly showed his comments during events, especially when we were first getting started in 2015. We will miss him a lot. Rest in Peace, Joe Galloway.
***************************************
CPP Mail-out Program
The EC-47 History Site mail-out program for the Commemorative Vietnam veteran and deceased Vietnam veteran surviving spouse lapel pin and certificate is a popular service provided through this website. Recipients include those who registered for but were unable to attend a San Angelo ceremony and those who live outside the area of other CPP registered organizations. The most recent recipients are featured in pictures and mini-biographies in the slideshow above. Click on the individual photos to read each expanded story or click HERE to see all their pictures and stories in a single .pdf document. Click your browser return arrow to return to this page.

**************************************
JULY 4TH MOTORCADE PRESENTATIONS
The San Angelo American Legion, Post 572, developed the In Memory Of yard sign design to pay tribute to select deceased military veterans during the Post Memorial Day weekend golf tournament on May 29-30, 2021. (See related photo galleries on this website.) The IMO signs have become very popular and the EC-47 History Site Vietnam War Commemorative Partner Program (CPP) committee has continued to produce these signs and deliver them to veterans and their families on special occasions. The photos in this gallery represent IMO signs and Vietnam War Commemoration lapel pin and Certificate of Honor presentations on July 4, 2021. CPP committee members traveled by motorcade to individual homes to make the presentations personally. Click HERE or the photos above to link to the gallery.
**************************************
MEMORIAL DAY 2021-LEGION GOLF & VETERAN IMO SIGNS
San Angelo American Legion Post 572 is an active member of the EC-47 History Site Vietnam War Commemorative Partner Program (CPP) committee established in 2015. Complimentary coverage of the Legion Memorial Day 2021 golf tournament and sign presentations is provided in appreciation of their continued interest in and support for the Vietnam War Commemoration programs. The Memorial Day golf tournament was a huge success. CLICK the flag photo above to link to the photo gallery of pictures covering the 2-day event. The proceeds were shared with the All Veterans Council of Tom Green County as shown in this oversized check presentation on June 15, 2021.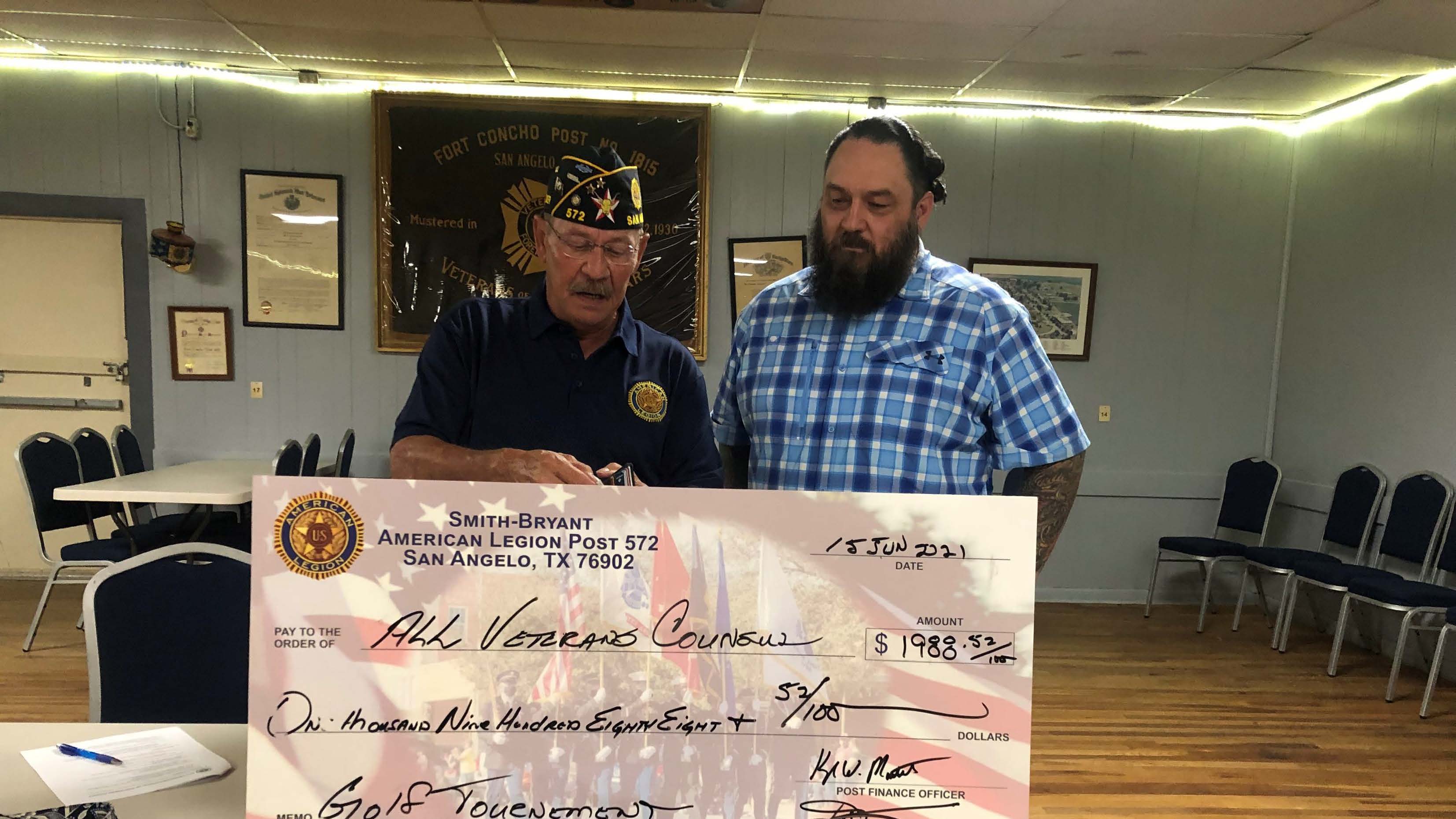 As shown in their golf tournament photo gallery, the American Legion Post 572 developed In Memory Of (IMO) signs in tribute to deceased military veterans of all wars. These 18 x 24-inch all-weather signs made from corrugated plastic (campaign yard signs) were placed throughout the Riverside Golf Course during the Memorial Day weekend tournament on Saturday and Sunday. The signs represented in this next gallery were retrieved from the golf course and presented to individual surviving spouses or immediate family members in a prearranged motorcade from home to home on Monday, Memorial Day 2021. Immediately after presenting the IMO signs, Vietnam War and All Wars surviving spouse lapel pins, Certificates, and Poppy flowers were also presented to eligible recipients. A number of the surviving spouses had already received the lapel pin and Certificate at previous ceremonies. CLICK on the Potter family photo above right to link to the photo gallery of pictures taken during the motorcade. To see more examples of IMO yard signs, please click either of the two sign graphics below. For more information about ordering In Memory Of yard signs and/or participating in future presentations, please contact the CPP webmaster at: [email protected]