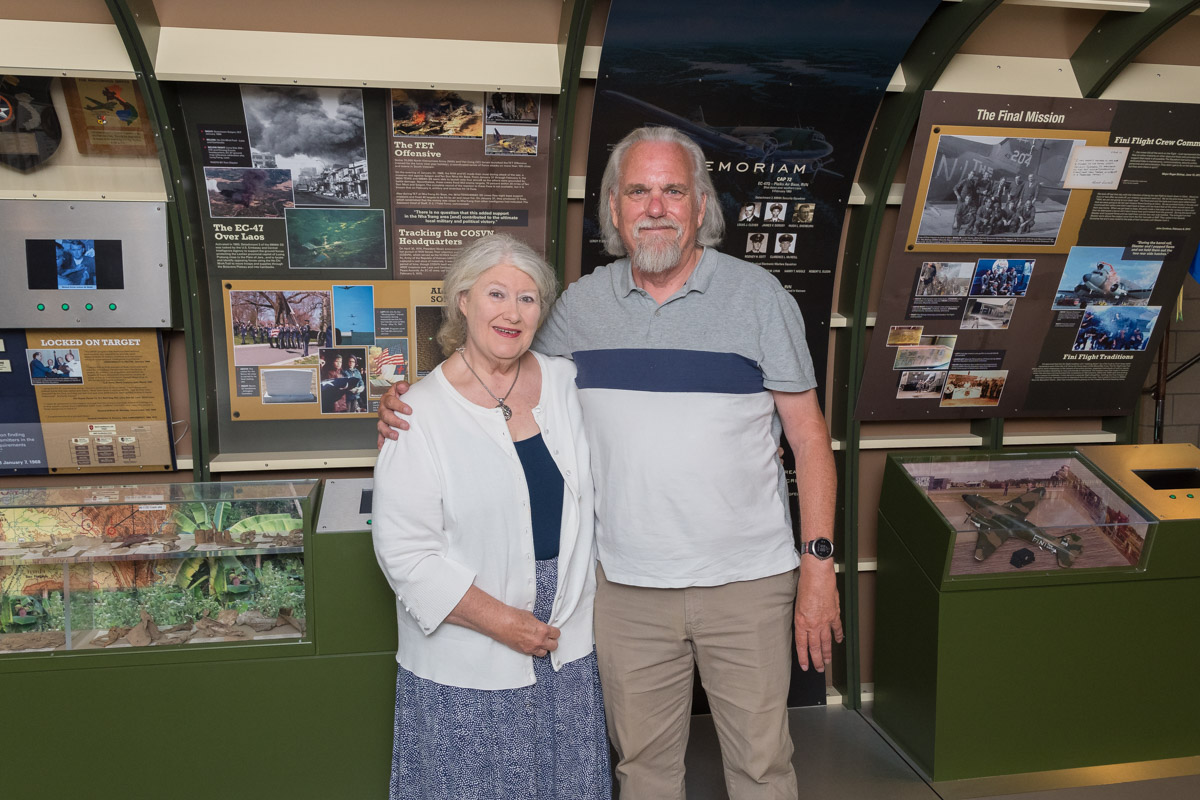 Fifty years ago, Robert Washburn had completed Vietnamese language training at the Defense Language Institute, Biggs Air Force Base near Ft. Bliss, Texas, and was attending classes at Goodfellow AFB in preparation for a USAF Security Service airborne assignment to Southeast Asia and the ongoing Vietnam War. Washburn and his wife, Marilyn, visited San Angelo and Goodfellow for a nostalgic look-back June 24-25, 2021. Photo by: Carl Bradley, Faith in a Flash Photography.
June 25, 2021: Upon graduation from his Linguist training at Goodfellow AFB, then-airman first class Robert Washburn was assigned to the 6994th Security Squadron, Tan Son Nhut Air Base, the Republic of Vietnam from January 1971 through January 1972. He served as an aircrew member on EC-47 airborne radio direction finding and communications intelligence collection missions over South Vietnam, Laos, and Cambodia. He flew 128 tactical combat support missions during his one-year tour. During one such mission, his aircraft and crew experienced an inflight emergency that ended with their unscheduled landing and overnight stay in Phnom Penh, Cambodia.
Here is an excerpt from a note that Washburn wrote to the EC-47 History Site website manager back on August 17, 1998.
As a Z-1 crew member on 128 missions out of TSN from January 20, 1971, until January 1, 1972, I arrived as an A1C and left a Sgt. We did an emergency landing and an overnight in Cambodia. We lost radar on a late evening flight. There was a storm between us and base, and the pilot reported low oil pressure for the #2 engine. Phnom Penh airport closes at dusk. We buzzed the dark runway and did a one-engine landing and taxied off the runway and waited. Eventually, someone rode up on a bicycle. One of the Vietnamese trainees on the flight spoke to him in French and he rode off. Half an hour later a truck shows up with a homemade drag bar and pulled us over to the military side. The Air attaché was not happy to see us. The next day they brought in a recovery plane. Mechanics could not reproduce the low oil pressure condition and we flew back to TSN.
Washburn updated his previous note during his Friday morning visit to Goodfellow.
"I was a Dogger. Colorful career. Language school because Air Force didn't have enough in the pool to fill the contracted for classes and 'I could do better than a K9'. I was longer at Goodfellow because my security clearance wasn't ready so ran the base swim program for a summer. So, I was two years in service before finishing all the required schools. I was assigned to the 6994 Security Squadron, Tan Son Nhut, Republic of South Vietnam, from January 1971 to January 1972. My crew is noted for the diversion to Phnom Penh and overnight there. At the end of my tour, I received orders to Okinawa...a consecutive remote and second consecutive combat tour. My Senator said "No" and my orders were changed to NSA at Ft. Meade. At NSA, I was released from my linguist duties and assigned as a driver. I drove VIP's to the Pentagon and Andrews for the last year."
Robert met his wife, Marilyn, here in San Angelo during his tour at Goodfellow. They are both looking forward to this visit and reminiscing about times past.
17th Training Wing Historian, Mr. Mark Howell, interviewed both Robert and Marilyn Howell and recorded their oral history in his office on Friday morning. We look forward to adding their comments to this story at a later date.
This gallery presents a selection of photographs taken by Carl "Brad" Bradley of Faith in Flash Photography, San Angelo, Texas.
Enjoy viewing and using these photos...but remember - The photographer and website manager grant permission to download and use these images for personal use only. Users may not edit or change digital files with filters or any software without written permission from the photographer(s) and website manager. This permission applies worldwide. The photographer retains the copyright to all images. Please credit Brad and The EC-47 History Site CPP when downloading or referencing these images for your personal use.