Hannibal Heritage Chapter Daughters of the American Revolution
Hannibal, Missouri
In October 2019, the Hannibal Heritage Chapter DAR Regent, Cassy Johnston, asked us (The EC-47 History Site Commemorative Partner Program (CPP) committee) for information about the Vietnam veterans surviving spouse Certificate of Honor Program. Ms. Johnston was energized by the Missouri Great River Honor Flight officials who were interested in honoring the surviving spouse of a veteran who had been selected for their next flight to the Washington memorials...but who died before the scheduled flight date. This type of request falls within the loose guidelines of our CPP mail-out program that we administer through the vietnam50thcpp website. With our commitment and encouragement, the Hannibal chapter entered the required information through the online registration program...adding the names of two more surviving spouses during the process. We processed the registrations, printed the Certificates of Honor and acquired the Blue Star commemorative lapel pins and other materials, all of which we packed up and mailed to the Hannibal chapter for presentation. Everything worked smoothly and we salute Regent Cassy Johnston and the Hannibal Heritage Chapter DAR for making this outreach such a success. Here is their local newspaper coverage of this heartwarming story.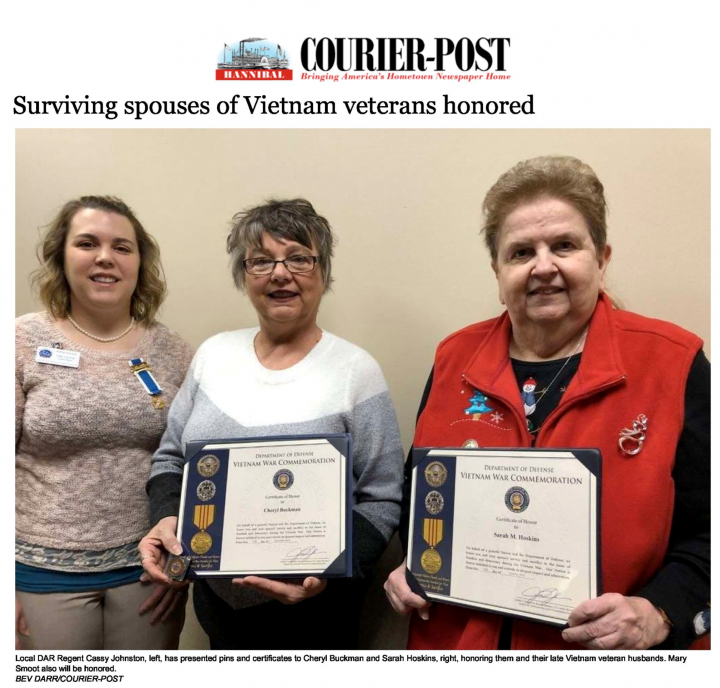 HANNIBAL | Sarah Hoskins arrived at the Dec. 14 meeting of the Hannibal Heritage Daughters of the American Revolution (DAR), not knowing she was going to receive a special honor.
She was among three surviving spouses of Vietnam veterans to be honored, along with Cheryl Buckman and Mary Smoot. (Smoot was not present and will be honored later).
David Hoskins, Sarah's husband, served in the U.S. Army from January 1967 to December 1969.
Kenny Buckman, Cheryl's husband, served in the U.S. Army from December 1967 to December 1970.
Warren Smoot, Mary's husband, served in the U.S. Air Force from October 1963 to July 1968.
Hoskins' certificate from the Department of Defense, Vietnam War Commemoration, states "on behalf of a grateful nation and the Department of Defense, we honor you and your spouse's service. … Our nation is forever indebted to you and extends its deepest respect and admiration."
Sarah Hoskins was especially grateful to have her husband honored, explaining he died on June 27 of this year, and she wished he could have been there to accept the certificate and pin. The Hoskins had been married for 54 years. During his Army service, David Hoskins had a position in the Pentagon in Washington, D.C.
Hoskins was accompanied to the DAR meeting by her daughter-in-law, Sheri Hoskins of Troy, a Hannibal DAR member; and granddaughter, Josie Hoskins, a member of Children of the American Revolution (CAR) in Troy.
Johnston explained she has been working with the Vietnam Memorial personnel in Washington, D.C., to sign up surviving veterans or their spouses for the pin and certificate. This is being done in conjunction with the Vietnam War's 50th anniversary.
Johnston hopes to honor more Vietnam veterans or their surviving spouses. "Anyone interested in receiving the pin can contact me by email at [email protected] or by phone at 573-248-6121," she said.
After honoring more veterans or their spouses, she hopes to get them together in summer of 2020.