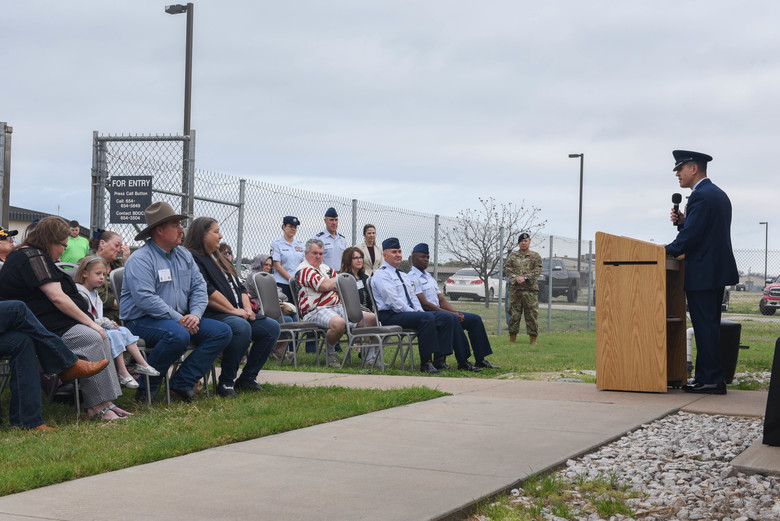 U.S. Air Force Staff Sgt. Dakoda Riddle, 17th Security Forces military working dog trainer, guides guests through the newly renamed Fritz MWD Kennel on Goodfellow Air Force Base, Texas, March 29, 2019. The unveiling began with a ceremony, followed by a tour and demonstration put on by the dog handlers, lastly there was a display arranged in memory of Sgt. Gerald Fritz. (U.S. photo by Airman 1st Class Zachary Chapman/Released)
Goodfellow Air Force Base, Texas --
In May 1975, the S.S. Mayaguez, a merchant ship, was seized by Khmer Rouge communist forces in Cambodia. 75 volunteers from the U.S. Air Force 56th Security Police Squadron answered the call to retake the ship. On their way to the staging location of U Tapao Royal Tai navy airfield, one of the CH-53s crashed. Sgt. Gerald Fritz was killed in the crash along with 17 other security police and the five-man crew.
In 1980, Goodfellow renamed the security police dormitory in honor of Fritz, but in 1985 the dormitory was torn down.
March 29, the Military Working Dog Kennels were renamed in honor of Fritz's service and sacrifice.
"He joined the Air Force and became a security policeman and a dog handler," said Col. Ricky Mills, 17th Training Wing commander. "A high school photo shows him looking beyond the frame of the picture smiling: optimistic, earnest, dependable and ready to lend a hand. Today, thanks to the help of many of our veterans and active duty families, we are happy to rename these kennels in his honor."
Linda Fritz, widow of the late Sgt. Fritz, attended the service along with several other Vietnam veterans. When asked about her husband's time as a dog handler, she replied.
"He loved it, he was a country boy so he loved working with animals so he thought it was great," said Linda. "Seeing him work with the dogs was an everyday occurrence when we lived in Malmstrom Air Force Base, I would go to the base and watch him work with the dogs."
She continued to share her memories of Fritz.
"He was a good honest country working boy, he just thought the military was wonderful," said Linda. "It helped him and gave structure to his life, and he just thought it was great."
The ceremony wrapped up with a demonstration for the veterans in attendance to see the dogs and their handlers in action.
The newly named kennels will continue to honor Fritz and fellow dog handlers into the future.
"We will be certain to carry the memory of Fritz with us into our future, where he belongs," said Mills.
Gallery photos taken by Carl "Brad" Bradley, Faith in a Flash Photography