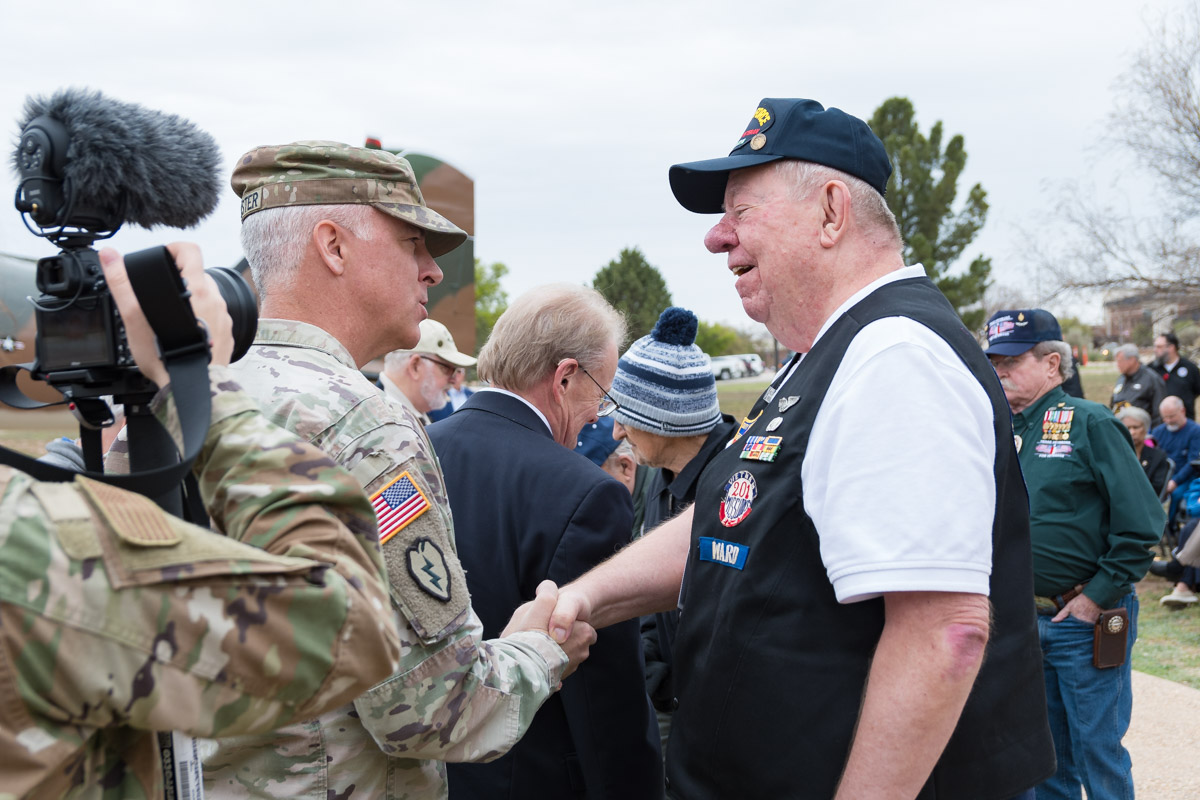 //Left to right: 344th MI BN/CC LTC John McAllister congratulates Vietnam 6994th Security Squadron ARDF veteran Dallas Ward following the presentation of the 50th Vietnam War Commemoration lapel pin.//
SAN ANGELO, Texas (KLST/KSAN) — A ceremony was held at Goodfellow Air Force Base on Wednesday, March 29 in honor of National Vietnam War Veterans Day.
Concho Valley Vietnam veterans joined some from around the country for the ceremony on base. The national observance has been held since 2012. The date marks the 50th anniversary of the withdrawal of US combat troops from Vietnam.
17th Training Wing Commander, Col. Matt Reilman was the guest speaker.
"I think personally, for me, I appreciate the continued support from the local community for this and other events that we have around the area," said Reilman. "My dad was a Vietnam veteran in the United States Navy for six years so it means a lot to go up to veterans and their families to thank them for their service."
Copyright 2023 Nexstar Media Inc. All rights reserved. This material may not be published, broadcast, rewritten, or redistributed.
There are 294 pictures taken during the March 29th, 2023, Vietnam War Commemoration Ceremony at the plaza and the evening dinner held at the San Angelo Clarion Hotel River View Restaurant. We sure appreciate the professional work of Carl Bradley of Faith in a Flash Photography. Click HERE to view the gallery of photos.
The next Vietnam War Commemoration Welcome Home and Presentation of Lapel Pins is scheduled to be held in San Antonio, Texas, on 19-21 October 2023. Presentations will be made at the EC-47 ARDF display on Kelly AFB Security Hill on 20 October and at the annual FTVA reunion banquet on the evening of 21 October. More information to follow. Call 325 450-4476 for more preliminary planning details.